News On The Department

Home > News on the Department
Retirement Ceremony for Prof. Kwon Hyuk Sang
Professor Kwon Hyuk Sang, who has contributed greatly to the development of science and technology and human resources while working for 33 years, has retired on August 31, 2017. The professors and students attended the retirement ceremony and lecture, and gave thanks and gratitude with government awards and an appreciation plaque. Professor Kwon Hyuk Sang was selected as honorary professor on Sep 1, 2017.
2017 Joint Symposium on MSE for the 21st Century (6.25 ~ 6.28)
About 100 graduate students from six universities in five countries participated in the Joint Symposium on MSE for the 21st Century at KAIST & Interciti Hotel from June 25 to June 28. Starting from a symposium of Korea-Japan symposium with two universities held at KAIST in 2003, it quickly becomes a big international conference that has now expanded to 6 universities (KAIST, POSTECH, Beijing University of Science and Technology, Singapore Nanyang Technological University, Japan Tohoku University, National Tsinghua University in Taiwan) in 5 countries. Through this conference, researchers have been exchanging information on the latest research trends and discussing future collaborations.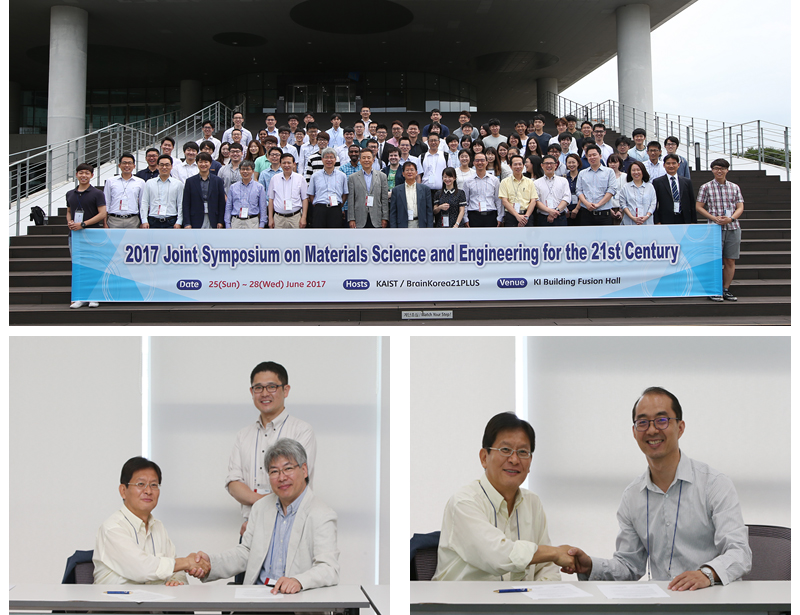 NM-AIST and KAIST Joint Workshop (7.8 ~ 7.15)
Seven professors including Lee Hyuck Mo, Kwon Hyeok Sang, No Kwangsoo, Shin Byungha, Jeon Seokwoo, Hong Soon Hyung, Hong S. Daniel visited Tanzania and held a joint workshop with The Nelson Mandela African Institution of Science and Technology (NM-AIST). Our team introduced each of their cutting-edge research and educated the NM-AIST faculty and students on fundamental science and current trends in engineering. This was a great opportunity to make KAIST a more reputable and prominent university in Africa.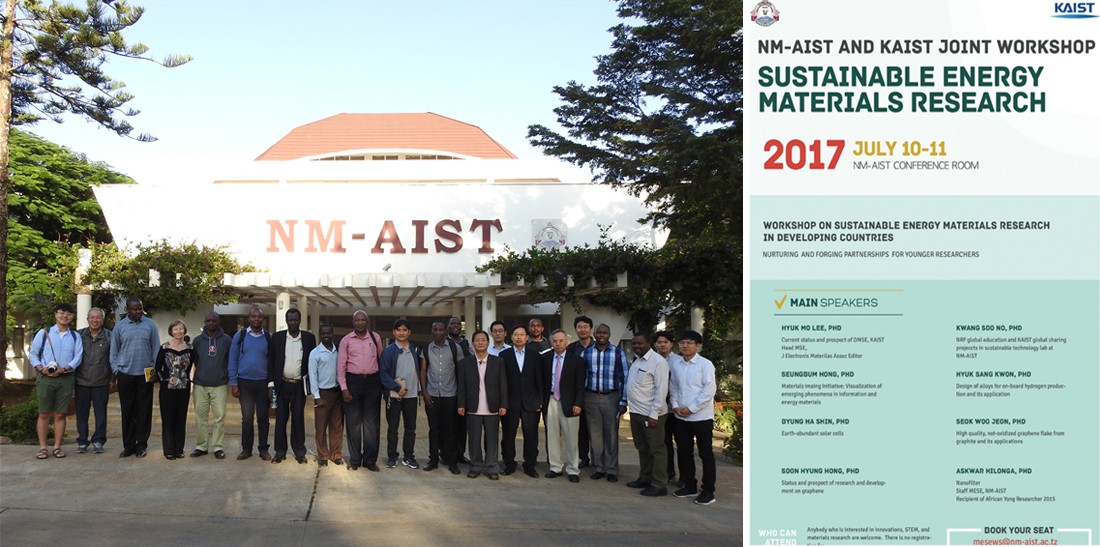 Prof. Paik Kyung-Wook, Won the Science and Technology Award "Ungbi Medal" (4.21)
Professor Paik Kyung-Wook of our department won the Science and Technology Award "Ungbi Medal" at the commemoration ceremony of the 50th Science Day, the 62nd Information and Communications Day.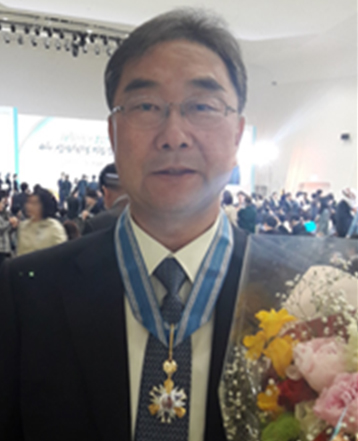 Prof. Shin Jonghwa, Won the Convergence Research Award (5.23)
Professor Shin Jonghwa won the convergence research award at KAIST Research Day 2017.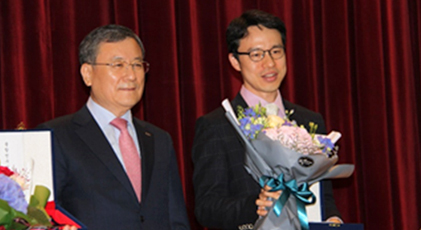 Prof. Park Sang Hee was Selected as a Fellow Member at SID (5.22)
Professor Park Sang Hee was selected as a fellow member for her achievement in developing the first AMOLED display based on oxide TFT at SID (The Society for Information Display) 2017 held at the Los Angeles Convention Center in USA.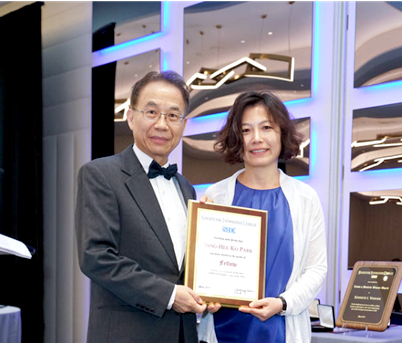 KAIST-SNU MRS Joint Workshop (5.26)
Seoul National University and KAIST Materials Research Society (MRS) University Chapter members shared the opportunity to communicate and share various research through a joint workshop.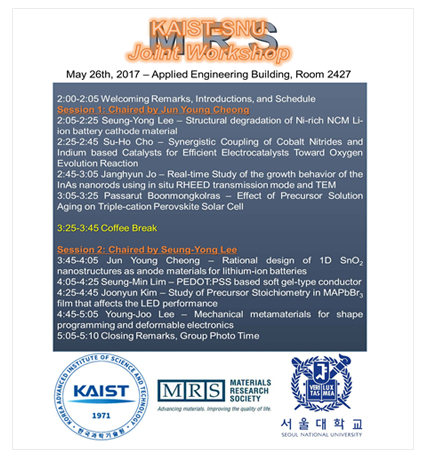 2017 KAIST-IOM Workshop (6.5 ~ 6.7)
Professor Jung WooChul of KAIST and the Aron group of IOM (The Leibniz Institute of Surface Modification, Germany) have been holding regular workshops from 2015, and this year, the third workshop was held.
The two groups are working closely together to build a firm research collaboration between KAIST and IOM.
(Research topic: Highly controlled thin film deposition technology and the latest high-resolution in-situ measurements technology to explore the "ex-solution" phenomenon in depth.)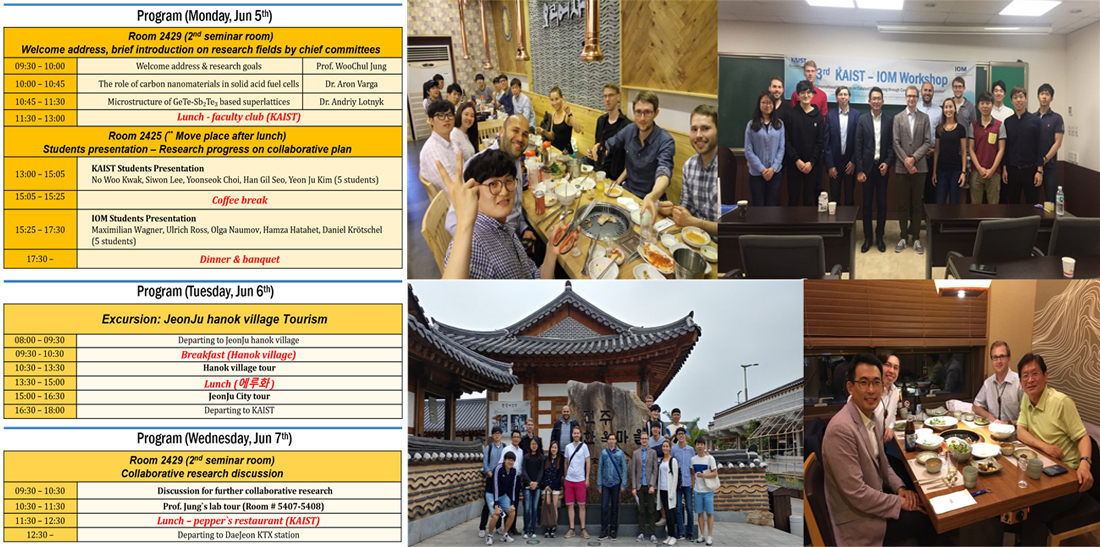 Visit of Tokyo Institute of Technology to KAIST (3.13)
Professor Hara Masahiko and Hayamizu Yuhei from Tokyo Institute of Technology visited our department to discuss joint research and education programs. Professor Lee Hyuck Mo (Head of department), Shin Byungha, and Steve Park participated.
ó Agenda
- Establishing double degree programs between KAIST and Tokyo Tech
- Discussing future academic collaboration and student exchange initiatives between KAIST and Tokyo Tech
- Fostering cooperation between KAIST and Tokyo Tech through other CAMPUS Asia Programs such as Summer School and Research Internship
Visit of Hyderabad, Director of IIT to our department (4.20)
Uday B. Desai, Director of Indian Institute of Technology Hyderabad (IIT) in India, visited our department.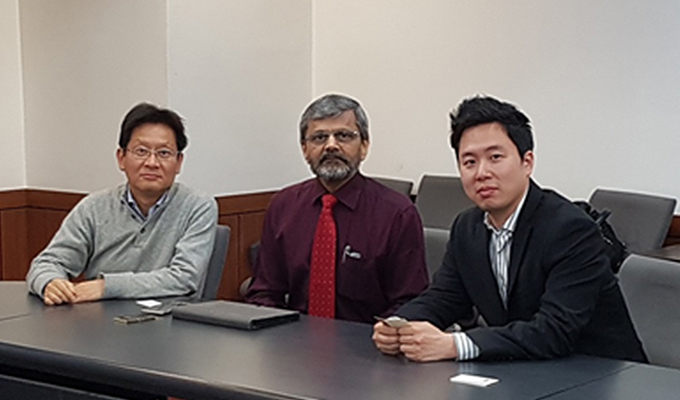 2017 Spring Semester Dean's List
To reward excellent undergraduate students having outstanding academic records and innovative ideas, college of engineering initiated the Dean's list recognition. Following students were selected in the Dean's List for 2017 spring semester – Kang Da Dam, Song Hee geun, Lee Serin.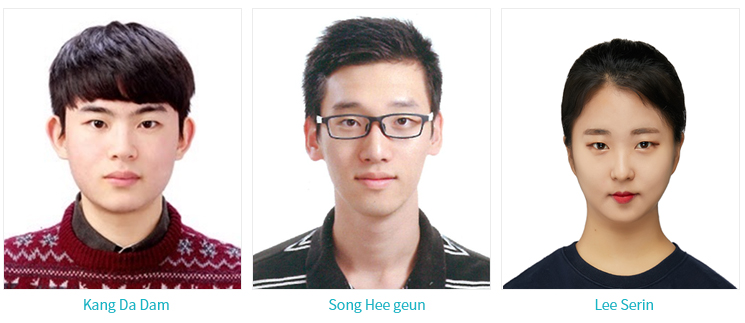 2017 Annual Athletic Competition (8.23)
The 2017 KAIST Materials Science and Engineering Graduate Students Athletic Competition was held on Aug. 23 at the Sports Complex and the Main Stadium.
The events were soccer, basketball, table tennis, jokgu, badminton, tug of war, group rope jumping, relay race, and the participating members were divided into four teams.Team B (Kim Il-Doo, Park Sang-Hee, Hong Soon Hyung, Bae Byeong-Soo, Choi Pyuck-Pa, Park Byong-Guk) on 1st place and Team C (Jeon Seokwoo, Kim Do Kyung, Lee Keon Jae, Shin Jonghwa, Lee Hyuck Mo, Jeon Duk Young, Ahn Byung Tae) won 2nd place, who was awarded 800,000 won and 600,000 won, respectively. Prof. Kang Jeungku and Jung Woo Chul's lab won the cheering award. After the event, there was a barbecue party in the department building lobby.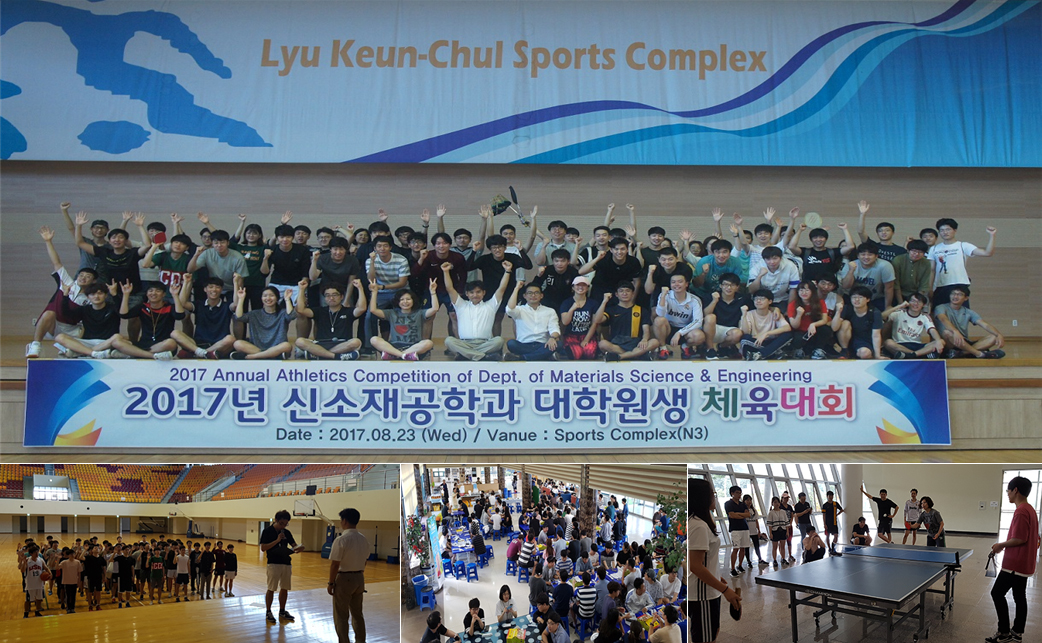 Strawberry Party for Undergraduate Students (4.6)
The Department of Materials Science and Engineering holds a strawberry party event on the lawn, in front of Applied Engineering building each year for undergraduate students and professors in the spring semester. Professors and students have time to eat strawberries, pizza, gimbap, play games and improve the relationship.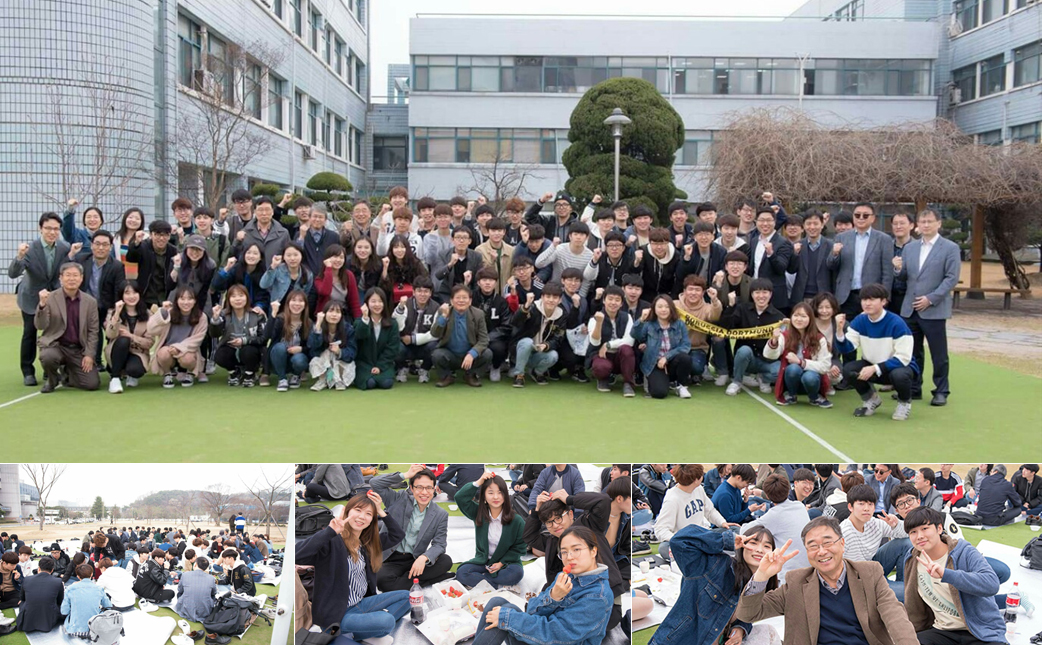 Opening Party for Spring Semester (3.8)
Welcoming party for new undergraduates was held on March 8th at a Korean restaurant near KAIST, and in a lecture room, in which professors and students had meaningful interactive time together.

2017 Summer Workshop for Department Faculties (7.4 ~ 7.5)
A workshop for faculty members of the material science and engineering department was held from July 4 to 5 at the Namhae Hilton Resort. Seventeen professors and eight faculties attended. Major issues and challenges to further improve the department were discussed. There was a ceremony to commemorate the retirement of Mr. Hong Suk-goo.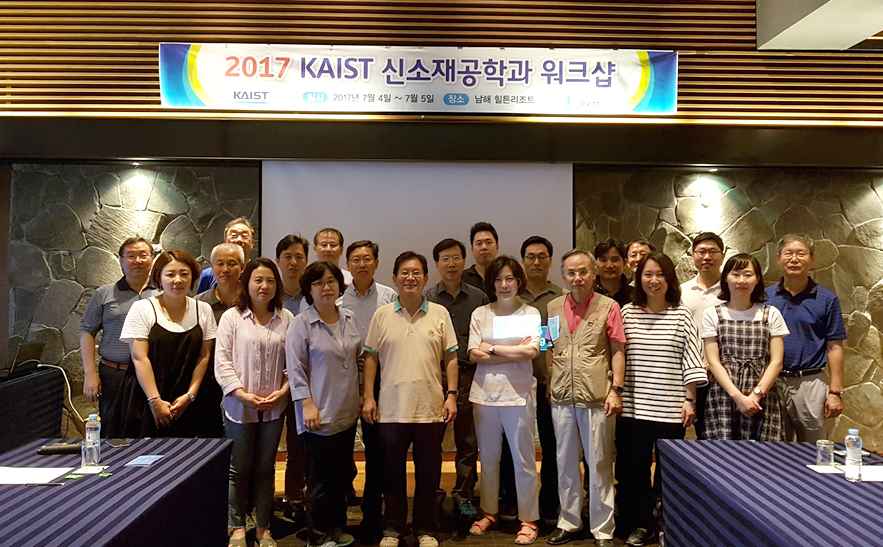 Retirement for Mr. Hong Suk-goo
Mr. Hong Suk-goo, the technician who has been in the department for 41 years, has retired on June 30, 2017.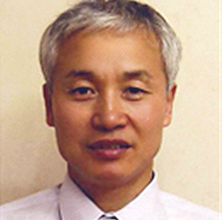 2017 Spring Semester Lab Safety Officer Meeting (4.14)
In order to raise safety awareness and strengthen the relationships amongst laboratory safety officers, a safety seminar was held for the 2017 spring semester. About 40 people attended the meeting, including the head of the department, members of the safety committee, and safety officers.
Information on Personnel Change

- Prof. Kwon Hyuk Sang retired and were granted the title of Emeritus Professor in MSE on 2017.09.01
- Prof. Shin Byungha was promoted to Associate Professor on 2017.09.01
- Prof. Kim Do Kyung (Sabbatical year, 2017.07.01. ~ 2018.06.30., USA)
- Prof. Lee Hyuck Mo serve consecutive terms for Head of department, from 2017.09.01. to 2019.08.31.

Donations Fundraising

-Prof. Park Joong Keun donate for department (30,000,000 won)
-Prof. Kwon Hyuk Sang donate for department (20,000,000 won)
-Yoo Hyun Moon ('77 Master, advisor: Choo, Woong Kil) donate for department (10,000,000 won)