소개
반도체공학프로그램(KEPSI: KAIST Educational Program for Semiconductor Industry)은 반도체 분야의 맞춤형 산학 교육 모델로서 1996년 설치되어 운영되고 있다. 본 프로그램에서는 하이닉스반도체의 인턴십 등을 통하여 실무 경험을 쌓을 수 있는 기회를 제공하며, KEPSI프로그램의 지속적인 산학 맞춤형 교육과정 개발을 통하여 고도의 학제적 지식과 기술을 갖춘 21세기 세계 반도체 기술을 선도할 수 있는 고급인력 양성에 주력할 것이다.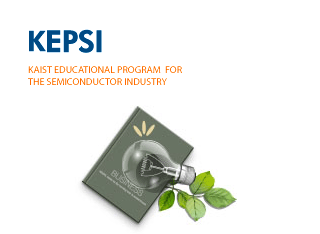 참여기업
(주)하이닉스 반도체
연구 및 교육 분야
연구 분야 : 반도체 소자, 공정, 회로분야
모집 학과 : 전기 및 전자공학과, 물리학과, 신소재공학과
교과 과정 : 각 소속학과의 교과과정을 따른다.
혜택
교육경비 전액 지원
실험실 배정 : KEPSI 연구분야 우선 배정
논문연구비 지원 : 국비장학생 기준에 준하며, 해당 실험실에 지원
매월 장학금 지원 (※ 참여기업에서 별도 지원 : 참여기업 내 처우기준에 따라 변경될 수 있음)
- 석사과정 : 90만원/月
- 박사과정 : 110, 120, 160, 170, 190만원/月 (1~5년차까지 년차별 지급)
해외학회 참가비 지원: 석사과정 1회, 박사과정 2회 각 200만원씩 지원
참여기업에 취업 보장 (학위취득기간의 2배 의무 복무)
기타 하이닉스반도체 우수장학생 혜택
참여 교수
NO
교수
전공분야
1
강기범

Semiconductor Materials Growth, 2D Materials/Devices, Atomic-Level Engineering

2
김경민
Semiconductor process and devices, Oxide thin film, Nanoscience
3
김상욱
Nanopatterning, organic solar cells, carbon nanotubes/graphene nanodevices
4
김일두
Synthesis of inorganic nanomaterials and application for sensor and energy storage
5
남윤성
Biological Self-assembly of Semiconductor Nanocrystals
6
노광수
Electronic and Optical Materials
7
박병국
Magnetic materials, Magnetic memory, Spin logic devices
8
박상희
Oxide TFT based electronics and Display
9
배병수
Electronic and Optical Coating
10
백경욱
Electronic Packaging Materials and Processes. Nano-Packaging Technology
11
신병하
Photovoltaic Materials and Devices, Electronic Materials, Thin Film Growth Kinetics
12
안병태
Solid State Chemistry, Thin-Film Solar Cells
13
이건재
RRAM, PRAM, Flash Memory, DRAM process and Materials
14
이혁모
Alloy Design, Alloy Phase Equilibria
15
전석우
Flexible Nanoeletronics, Advanced Photonic Materials
16
정연식
Self-assembly, Information Storage Devices, Nanofabrication, Energy Capture Devices
17
정우철
Solar Fuels, Fuel Cells, Electro-catalysis
18
조은애
Fuel Cells, Electrolysis Cells, Batteries, Corrosion
19
홍순형
Multi-functional Nanomaterials and Nanocomposites
20
스티브박
Nanoelectronics, Printed Organic Electronics, Stretchable Electronics and Sensors, Bioelectronics
21
최벽파
Materials Characterization, Atom Probe Tomography, Alloy Design, Phase Transformations
22
육종민
Bio-, Energy-, Nano-, and 2D-materials, In-situ Electron Microscopy
23
홍승범
Materials Imaging, Atomic Force Microscopy, Ferroelectric/Piezoelectric Materials, Information and Energy Storage
※ 반도체공학프로그램과 연구 분야가 일치하고, 참여의사가 있는 경우에는 참여교수 명단에 제외되었더라도 참여 가능하다.
문의처
Tel: 82-42-350-8585 (김은영) / Fax: 82-42-350-8580
홈페이지